Back in the 80's and early 90's Amy's donned the best cooking when it came to good Asian grub, big portions and flavor for extremely reasonable prices at this locale. They moved to Napa Street where Sonoma Market is, and over the years a few different businesses gave the locale a go. I think it was even used as a home at one point.
One memorable attempt was the Hot Box Grille. It was real busy at the beginning, people lined up for their food and I would have loved to have tried it to be able to tell you if it was any good; but seriously… at $62.00 for a meal for 2?, which sounded good but considering I like good size meals, I'm thinking I would have come out of there saying a few expletives for having overpaid just to get teased with expensive food.  So, suddenly they just weren't there anymore.
Then one day this big ass metal pig was standing, leaning against the wall on the side of their parking lot. Ok, so not quite standing.  Next day it was up on its roof. I got to thinking,  -"That thing looks a bit chic… a bit artsy… Good grief, is it gonna be expensive too?" With that I chucked Cochon Volant to the back burner of my brain. Always seeing the pig in mid take-off, just calling me… -"Isabel, there's pig here, you like pig, pig is good, pig is Keto good…." All the while the other voice in my head was counteracting with -"It could be expensive, what if it isn't filling enough? what if you come out of there hungry? It's not Rodizio…"
So Folks, after a few years of back and forth, the Flying Pig's voice won the battle. It was after 4 PM on a Saturday and I wasn't gonna venture to the Plaza on my muumuu when Hare and Hatter are shut down for the day. I went to http://www.cochonvolantbbq.com/ and went for it. I checked out their menu and I was INSTANTLY P.O.d at myself when I saw the absolute wasted time spent thinking these guys were gonna be overpriced! Menu has some absolutely delectable items such as BBQ / SMOKED MEAT BY THE POUND!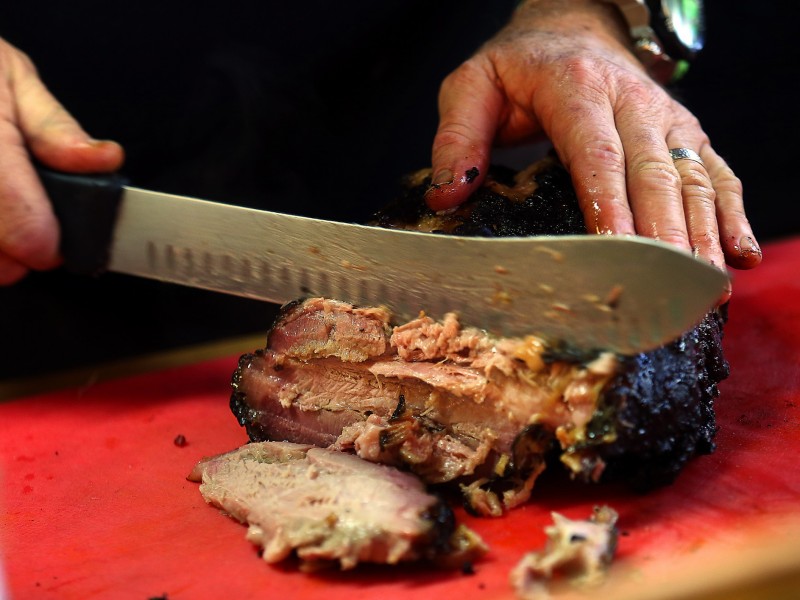 And their Yelp reviews pictures include some ridiculousness deliciousness called the Meat Parfait which according to chef/owner and operator Rob Larman, they normally only make at festivals or catered events, but if I got the cravin' to just give'em a call and they'll make it for me… I'm THAT Special!!!
Now, The Big and Juicy Grape is not famous folks, we got no influential friends in high places… Chef Rob said that to me as he was slicing up a pound of pork shoulder for me and wrapping me a pound of sausages cause he saw me slobbering like Homer Simpson and my Meat Parfait fantasy just slipped out. That is customer service!
So If you're a carnivore, doing Keto, or you are just simply hungry for some good comfort food with tremendous quality, and you want to be able to hoof it there and back… I don't only highly recommend Cochon Volant BBQ, I'd walk you there myself, to pick up my parfait!
For any more information on Cochon Volant visit their site: http://www.cochonvolantbbq.com/
Come spend more than a few days in this beautiful Valley of the Moon, don't spend a small fortune in lodging, instead, get a private and memorably comfortable stay affordably at The Big and Juicy Grape.
We are presently accepting reservations via:

♥

♠

♦

♣